Vietfish 2015 Exhibition was organized at Sai Gon Convention & Exhibition Center (SECC), Dist. 7 from 24th to 26th August 2015. There're over 200 exhibitors participated which included local & foreign companies. This exhibition is one of the most professional fisheries showplace in the world and Asia, attracted about 30.000 visitors.
At Vietfish 2015, Tan Chong (VN) showed 3 units: Pallet transporter PLP250, Pallet stacker PSP160, Reach truck UMS200, this product are perfect solutions for cold store. With good style, special features, the height of lifting, our Nissan forklift from Unicarriers Corp attracted the interest of many visitors from Seafood Co., Logistic Co., Manufactory...
Representative of Unicarriers Corp. in Asia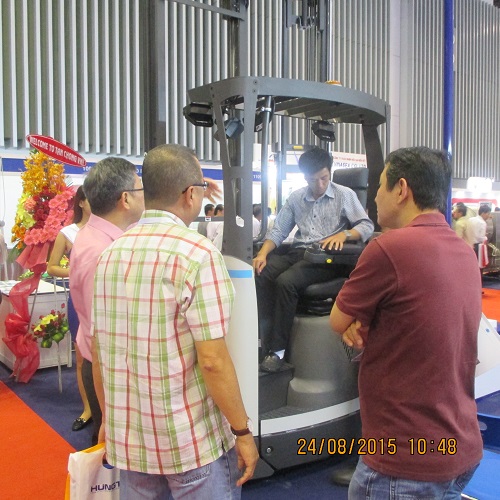 "Material Handling Solution For Cold Store" seminar was performed at 14h on 25th August by the presentation of Tan Chong (VN) 's Management Board. This seminar provided many informations of our shown product in chi-tiet. Almost participators were surprised at the working capacity and the effectiveness of Nissan forklift from Unicarriers.
After 3 days of Vietfish 2015 Exhibition, Tan Chong (VN) have got success and left deep impressions in the thinking of visitors. We'd like to thank your interest and support for Tan Chong (VN) not only at Vietfish 2015, but also the time is gone.
See you next events of Tan Chong (VN) !